It can be difficult to know when it is time to invest in a website redesign. It is a process that should not be taken lightly as it requires both time and money, so you want to make sure the timing is right. In this article we will help you figure out if this is the case for you.
Why is good web design important?
A website reflects the identity of your brand. If you want to provide customers with an excellent first impression, you must offer a great website experience. A good visual design is an essential factor for a company's success. A professional redesign of your website can help you (re)establish your identity and create a good (first) impression.
So, is it only about aesthetics?
No, a website redesign is not just a cosmetic change. It's an opportunity to evolve with your audience. It's an investment that pays off in the long run by increasing customer loyalty and making your site more competitive in search engines.
How Often Should You Redesign Your Website?
One of the questions we hear a lot is how often our clients should redesign their websites. In our opinion it is essential to regularly evaluate your website and its design to ensure it remains fresh and up-to-date.
How often you choose to redesign your website is largely dependent on the type of business, industry, and website you have. While there are no hard and fast rules for how often you should redesign your website, generally it is recommended to do a full website redesign every three to five years. Smaller adjustments can be made in between if needed.
What type of redesign do you need?
When considering a website redesign, it's important to establish what type of redesign your site needs. Do you need a full overhaul or is there an element that can be improved upon? Many options can influence the cost of a website redesign, so you need to determine the amount of work before estimating the expense budget for it.
It can help a lot to think about what is currently missing or what you are not happy about. This helps you decide if you would want to redecorate, rewire, remodel or rebuild your website.
To help you find out which one serves your needs we will go over the differences between them. Once you have this clear you can find out the potential website revamp cost.
Redecoration
Redecoration requires the least amount of work for a site redesign, since it only concerns site appearance and layout.
It will help you when you want to make visual changes to your existing website such as color changes, new images or videos etc.
Redecoration won't change the website's page loading speed or responsiveness because it only improves the visual design. So, this approach is not the magic wand for your business, but if your site functions excellently, it can make a difference.
Rewiring
Rewiring is the intermediate step between redecoration and remodeling. It requires a deeper level of work since it involves coding, usability, and speed.

This type of website redesign does not change the front-end design but can bring improvements such as adding new features, improving page loading speed, changing the Content Management System (CMS), and providing more safety or accessibility for your customers.
Understandably, re-wiring will cost more than redecoration. The price will include expenses on additional subscriptions, plugins, User Experience (UX) design services, and the work of proficient tech experts.
Remodeling
Remodeling includes both options from the two previous approaches for redesigning websites. In addition to a faster and more well-designed website, you get updates that will make your page even more functional.
Remodeling requires a higher budget and more time but will usually give better results. For this it is recommended to have a trusted design and development company that knows what they are doing. After all, you are investing your time and money in it.
Rebuilding
The most profound approach is doing a complete rebuild of your website. This process usually starts with a new visual design proposal based on your brand identity and goals. Once you are happy with this, your web design and development team will start building it.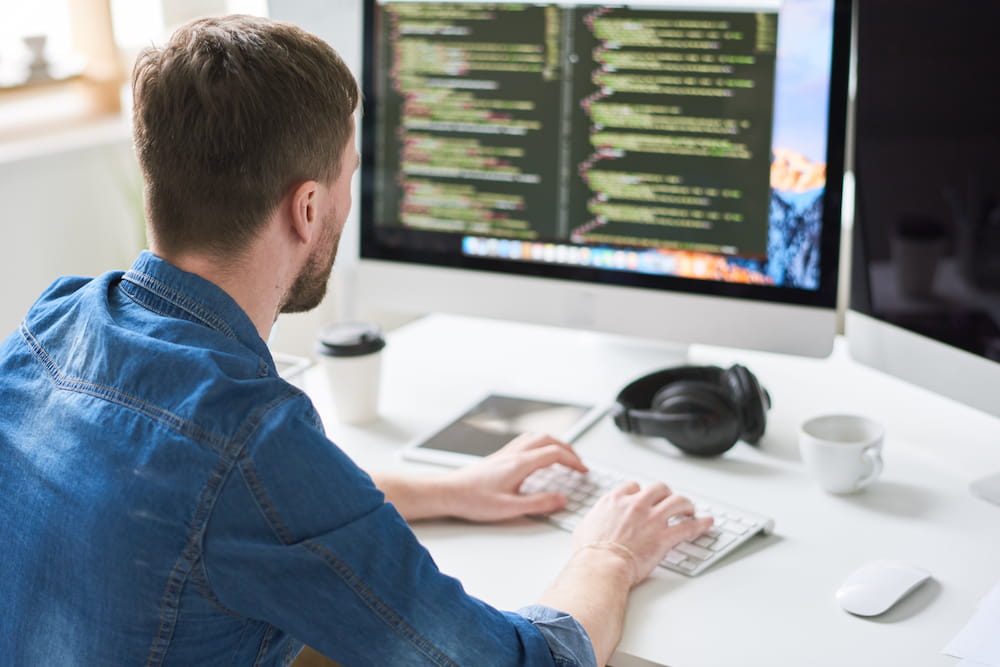 With the complete rebuild you have the option to build a new design with your existing content, or to start with a clean slate. (Keep in mind that you are usually the one providing the text for your new website, so it is recommended to reserve some time for this).
If you are sticking to the same Content Management System (CMS), your web developers can often just export certain content (such as blog articles) to the redesign so that it doesn't have to be done manually. You will keep your old content, but in the style of your new design.
Does a Website Redesign Increase Sales?
A website redesign can be a powerful way to boost sales and grow your business. A strong web design helps you create a professional image that instills trust in visitors, while also making it easier for them to find the information they need.
Additionally, an optimized page layout ensures that users are able to make purchases quickly and easily, increasing the chances of conversion. When considering a website redesign, it's important to focus on key areas that will improve user experience and encourage customers to buy from your site. This includes making sure the design is aesthetically pleasing and easy to navigate, and that all relevant information is clearly presented.
How Long Does it Take to Redesign a Website?
The amount of time it takes to redesign a website varies based on the size and complexity of the project. Generally, however, web design agencies take between 45 to 90 days to complete a full website redesign. During this time, they work on everything from (UX) design to building it and adding features that make it easier for you to add/remove elements (such as team members or blog articles). After the project is completed, the website gets migrated to your (existing) domain.
The Website Redesign process
An effective website redesign usually starts with a thorough conversation to discuss your desired outcomes. By understanding these needs your design and development agency can determine the best plan of action and implement it efficiently.
Additionally, they ensure that all design elements are tailored accurately towards achieving those goals – whether it's getting more website traffic or optimizing for mobile devices. During the design process you can expect to be regularly updated on any queries which may arise during development periods lasting up to two weeks at a time.
Keep in mind that web development generally does not include SEO (search engine optimization to increase web traffic), content creation, copywriting or other marketing services. These must be considered when budgeting for a website redesign and can add significant costs to the project.
How to Know if Your Website Needs a Redesign?
A responsive, mobile-friendly website with a modern design is key to any digital marketing strategy. No matter your business's marketing tactics, the ultimate goal will likely be the same—driving visitors to your website.
Because the digital world is rapidly evolving, it is essential to employ regular site maintenance and re-assess your website's design.
If your current website is experiencing these issues, then it is probably time for a website redesign:
It isn't isn't mobile friendly
It has a low engagement rate
It is slow to load
It doesn't match your brand
It contains outdated content
It is difficult to navigate
It features an outdated design
It isn't easy to make updates with the content management system
Conclusion: Is it Worth Investing in a Website Redesign?
Yes! A well-designed website is essential to the success of your online business. A website redesign can give you a competitive edge and improve the overall user experience, making it easier for customers to find what they are looking for and engage with your brand in meaningful ways.
It will also help ensure that your website looks professional and up-to-date. A website redesign can be an investment in the future of your business and it's worth considering if you find that any of the issues above are affecting your current website.
Several factors come into play when calculating the average cost of a website redesign process. The first thing that business owners must consider is the time that it takes to design and build a new site. Many people assess the total number of pages on the site, but the estimated timeline should come from the designer and development team.
If you need more information about what WP Expert can do for your company, feel free to contact us or check out our web design service page. We are always happy to help you.
NAVIGATE FURTHER